Marketing / Web Marketing
-
Top Management
Sorry, this position has been filled… But find more Top Management jobs here!
As Europe's leader in the e-commerce of technology products, we are present in 9 countries and cover the largest part of the market. In order to improve our online positioning and to develop the share of international sales, we are looking for our International Digital Marketing Manager.
The consistency of our results, our external growth operations, and our international development prospects are giving us the perfect momentum to grow even further.
If you have a taste for challenges and entrepreneurship, come and join us!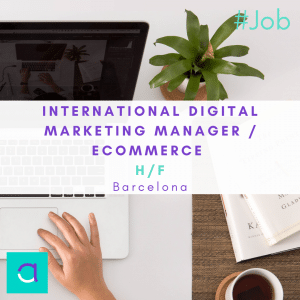 Mission:
As part of our international growth strategy, you will drive and develop all international online marketing activities in collaboration with the Group Marketing Director and the Countries Managers. The scope of your action covers the Iberian Peninsula, Italy, the DACH region, Poland, Benelux and the United Kingdom, with additional countries soon to be attached.
You will develop growth strategies and the associated marketing plans. You will manage the International Digital Marketing department in order to improve its efficiency and results by supervising all its components, from acquisition of paid traffic, SEO, content and website management, pricing, and social media to branding and all the others marketing activities.
On a daily basis, as International Digital Marketing Manager eCommerce, your main missions will focus on:
Defining and developing the means, resources and organization of the International Digital Marketing Department, in relation with our growth objectives;
Elaborating, proposing and implementing digital marketing strategies;
Defining the main KPIs, objectives and budgets for each Digital Marketing team in line with global objectives;
Managing the organization, the daily workload and tasks of the marketing team;
Working with company stakeholders to achieve online goals;
Ensuring a market watch to stay ahead of industry trends.
Profile:
With advanced training in marketing, you are working as a digital marketing manager, ideally in an e-commerce context or equivalent. You have acquired recognized skills in terms of acquisition marketing, strategy management and multi-channel marketing activities in BtoC and BtoB. You are business-oriented, know how to manage a budget and keep constant track of the ROI of the actions that are launched.
With your strong skills in project management, you bring the added value of a good understanding of the strategic and operational issues of web marketing and related tools (Google Ads, Webmaster Tools, Web Analytics Tools, CMS, Social Media, Pricing Tools, etc.).
A high level of English proficiency is mandatory, any other European language is a plus.
Soft skills:
You are willing to participate in the development of an innovative, international project by contributing your experience of growth management. The experience you have gathered and your ability to analyse any given situation have allowed you to develop a genuine sense of the market, how it is evolving and which opportunities it is presenting. You like matching needs with means and goals, and you operate as an innovative thinker.
Your sense of a job well done, your leadership associated with your interpersonal skills, will be your best assets to contribute to our success.
7 good reasons to join us:
Join a major player in its field;
A key position for the success of the company;
The opportunity to spearhead our international marketing strategy with a substantial investment budget;
Strong expectations from our teams on different topics linked to digitalization;
International work environment;
Work with an experienced and highly involved management team;
Pleasant working conditions (living conditions, company culture, growth dynamics, etc.).
#LI-DNI