Sorry, this position has been filled… But discover more Cybersecurity jobs here!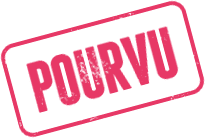 More meaningful work by engaging in the health world.
As a world-class French group in the world of health, our mission is to protect, treat and cure patients. From prevention to treatment, we transform scientific innovation into healthcare solutions (drugs, vaccines, various products, etc.). Technological innovation is at the heart of our DNA to constantly offer major therapeutic advances. Our industrial sites (almost a hundred) have largely taken the path of the Factory 4.0 model. In this context, we have assembled a Cyber industrial security team spread over several centers around the world, all equipped with the latest technologies. We are currently looking for our future Cyber Security Project Manager.
Mission :
Based ideally in Lyon area or Paris, The Cybersecurity Expert is part of the Industrial Cybersecurity team that has members worldwide. The Expert will be responsible for 9 sites in France and Europe. Your mission will be to ensure proper security implementation of systems, services and infrastructures supporting manufacturing and distribution processes in compliance with Group Security policies and cybersecurity regulations.
In a complex landscape (more than 100 factories worldwide) with high business and new technological challenges (Digital Factory 4.0), you provide security support for projects, contributes to the security design of the end-to-end architectures and services, coordinate and monitor remediation plans and perform regular security assessments.
Main responsibilities :
Implementation of the ITS Security management on sites:
Ensure the operational implementation of security processes and activities on the site (risk management, security in projects, security patch management, security incident management, vulnerabilities detection and remediation, account / FW reviews,…)
Manage and monitor potential exceptions and/or dispensations
Handle Cyber Security incidents (initiation, data collection, analysis and digital investigations, reporting) according to existing regulations and processes
Security risk assessment and monitoring:
Plan, coordinate and conduct regular security assessments and security reviews on site
Coordinate and monitor remediation plan execution with the security representative of the site and all stakeholders (Business, ITS, Engineering / Automation,…)
Project contribution and security expertise:
Perform Cybersecurity risk analysis in projects and provide expertise and guidance on technical solutions and standards to protect the manufacturing assets that support business processes
Conduct/coordinate and support central Cyber Security programs on industrial sites (system protection, network segregation, log management,…)
Cyber Security training and education:
Communicate on ITS Security best practices, processes, solutions and standards on industrial sites
Conduct specific security education and training in particular on automation environment (Scada systems for example)
Minimum Qualifications
Master degree in IT Security/cyber security ideally
Significant experience in IT Environment
Significant Experience in Cyber Security
Good verbal and written communication skills. Ability to work with many different stakeholders in an heterogeneous international environment
Good skills in English language.
Desired qualifications
Experience in pharmaceutical and health care industry
Experience in industrial landscape
Experience in project management
Professional Cyber Security certifications.
Why join us?
A sector of activity carrying meaning and values: health
A position with high impact in the company
An essential issue in the current context
Cutting-edge techno choices as well as large means to set them up
Strong responsibility at the heart of our cybersecurity strategy
Strong attention paid to work-life balance
A productive and pleasant working environment.
#LI-DNI