Sorry, this postion has been filled… But find our Cybersecurity job offers here!
More meaningful work by engaging in the health world.
As a world-class French group in the health environment, our mission is to protect, treat and cure patients. From prevention to treatment, we transform scientific innovation into healthcare solutions (drugs, vaccines, various products, etc.). Technological innovation is at the heart of our DNA to constantly offer major therapeutic advances. Our industrial sites (almost a hundred) have largely taken the Factory 4.0 model path. In this context, we have assembled a Cyber industrial security team spread over several centers around the world, all equipped with the latest technologies. Into ITS Cyber Security Dept, we are looking for an ITS Cyber Security Operations Center / SOC analyst.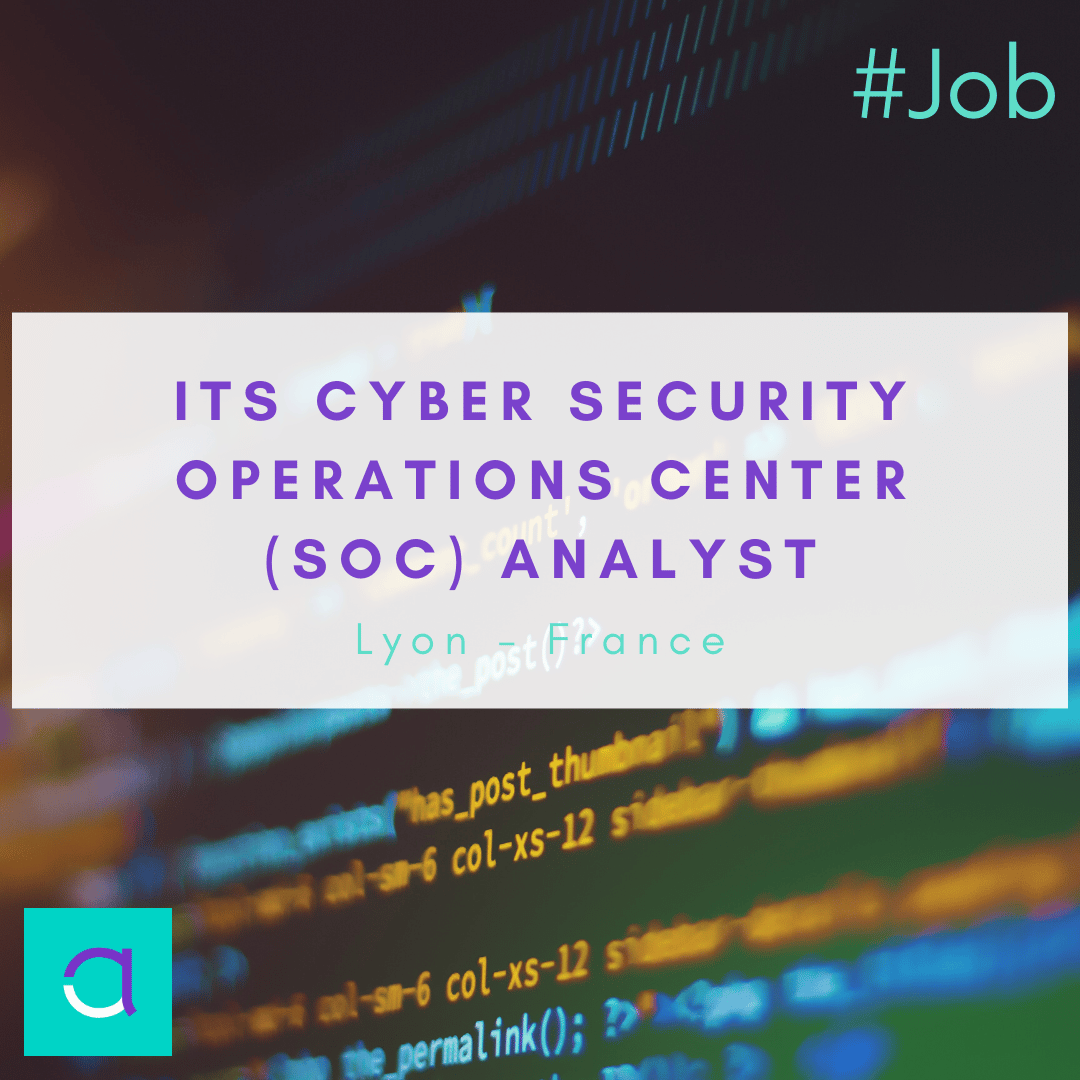 🎯 Responsibilities:
Our SOC Group is global and responsible of monitoring, detecting and responding to any possible cyber-attack. As a SOC analyst , you need to be an expert in cyber security. You must have expertise in forensics across various operating systems and technologies. You are responsible for developing new detection and response capabilities.
As SOC analyst you will be a highly competent computer scientist, capable of improving existing processes and technologies and developing brand new strategies and technologies.
You must also be knowledgeable and respectful of all relevant legal and compliance requirements.  The goal is to ensure that our company has highly competent cyber security experts to lead and puzzle out any attacks we might face.
The SOC analyst will ensure that appropriate forensics information is gathered from each incident engagement. Root cause analysis will be completed to ensure we learn from each incident and improve our detection and protection capabilities. The SOC analyst must be capable of identifying security gaps, missing controls and detecting strategies. The Analyst ensures risk reduction by developing rapid response strategies, expanding protection capabilities and improving the time to remediation so that dangerous security situations are quickly and effectively resolved.
🙂 Profile:
Formal Education and Experience Required:
Degree in Computer Science (Degree in Information Security would be a plus, Master's Degree or higher would be a plus);
Proven experience in SOC, Cyber investigation or forensics;
Computer Programming knowledge (Python knowledge preferred);
5 years of professional experience in IS/IT, of which 1 year at least in IS/IT Security;
Security Certifications like CISSP or CEH rated highly;
Good level of English is required.
Skills and expertise:
Strong expertise in common operating systems like Windows, MAC and/or Linux;
As a SOC analyst, expertise in understanding how these systems can be attacked, defended and forensically investigated is important;
Basic understanding of computer networks, firewalls, intrusion prevention technologies, and Antivirus technologies is necessary;
Experience working with some of these technologies is expected;
Expertise as a red team penetration tester or a blue team system defender would be a great additional skillset;
You have also some experience with Security Information Event Management (SIEM) systems and possibly with Event Detection and Response (EDR) technology;
Basic scripting skills in Python, Powershell and Visual Basic are recommended. More advanced programming skills are not required but would add strongly to the profile.
Soft skills:
Leadership and good communication skills to lead small teams in times of crises and to provide efficient communications around risk and threat levels;
A good ability to translate complex technical stories into non-technical language;
Work well with others and have strong listening skills;
Experience working globally across cultures and organizational levels;
Be able to function with a high level of autonomy.
❓ Why joining us?
A sector of activity carrying meaning and values: health;
A position with high impact in the company;
An essential issue in the current context;
Cutting-edge techno choices as well as large means to set them up;
High responsibility at the heart of our cybersecurity strategy;
Strong attention paid to work-life balance;
A productive and pleasant working
#LI-DNI